Sharp TV sound coming in distorted? You're not alone! That's one of the most common Sharp TV problems, and it's very frustrating when you can't hear your favorite shows or movies clearly.
Luckily, there are several things you can do to fix this problem and restore your TV sound to crystal clear quality. Here are four ways to fix distorted Sharp TV sound.
These are personally tried by me and finally, I was able to solve the problem. Now I am able to listen the sound without any sort of distortion.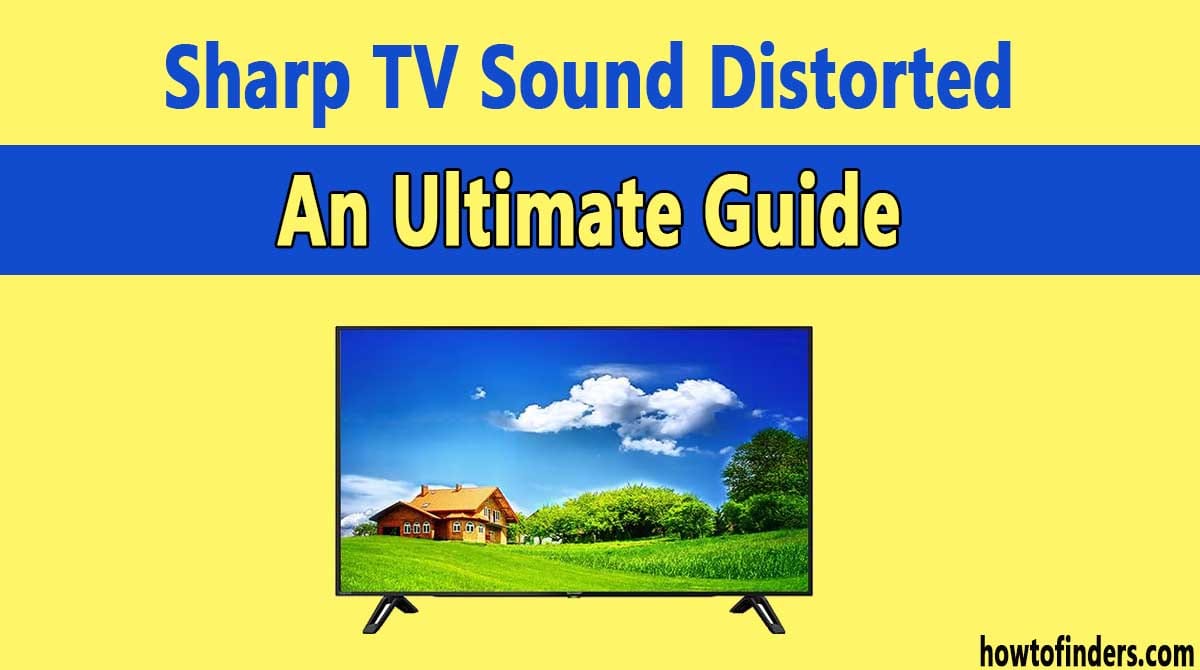 How do I know my TV sound is distorted?
If you're watching a show or movie on your TV and you hear what sounds like static, it could be that your sound is distorted. Usually, a glitch like that occurs when there's a problem with either your cable box or your DVD player—or possibly even something else altogether.
To determine whether it's really your device or not, try using different inputs on your television to see if there are any discrepancies across them. If it seems like all devices share in common these problems—which is likely. You might want to contact tech support for more help.
3 ways to fix distorted sound on TVs
There are a few things you can do to fix sound distortion on your television set. Sometimes, it's as simple as cleaning your speakers and tweaking a few audio settings.
If that doesn't work, try changing out your HDMI cable. You can also use an optical audio connection instead of using RCA cables. Finally, if all else fails, check to see if there is a firmware update for your specific model of television available online.
Check your settings
Not all sharp tv sound distortion happens because of a physical hardware problem. Many times, it's just a setting that has been accidentally changed in your television's settings menu.
If you suspect that you've already adjusted all of your audio settings and they still aren't working right, check to make sure that any changes haven't been overridden by automatic updates or manufacturer-installed apps on your television.
You may have to either downgrade to a previous version of the software or uninstall any installed applications that might be causing problems with your audio.
Change the volume level
One of the first things to do if your television sound is distorted is to change its volume level. Many electronic devices, including televisions, have a tendency to create distortion in their audio. It changes if they're not at their correct volume.
Make sure you turn down or up your television's volume before you make any other adjustments or repairs. If increasing your television's volume doesn't fix its audio distortion issues, it might be time to make some adjustments on your end or to contact the service for help.
Use external speakers
If you're just one person at home, there's no need to turn on your television and stereo systems every time you want to watch something. Instead, try connecting a small set of external speakers that can wirelessly stream music from your smartphone or tablet.
This will save a lot of electricity and prevent any damage to your equipment in case a speaker suddenly stops working. The same principle goes for other electronics too; why bother turning on multiple devices when you only need one?
Related: Sharp TV Turns ON Then OFF Immediately Fixed
Conclusion
Sharp is a big name in consumer electronics, but even its top-of-the-line models can suffer from sound issues. The reasons for distorted sound on your new Sharp HDTV vary depending on what model you have.
We'll start with some of the most common issues. After that w go over how to troubleshoot them yourself before considering repairs or upgrades. Let's take a look at what happens when audio turns into static noise and how to fix it!