This article is going to fix your Jabra Elite 65t that is producing too low volume. Jabra Elite 65t is one of the popular earbuds.
But, they can pose volume issues at times. Either both earbuds give low volume or one is quite than the other.
In fact, most of the time, it is not an issue instead of a lack of knowledge. The user does not know how the device functions and what its controls are.
Therefore, you wonder why your Jabra is giving too low volume. You should stop worrying now.
Because we have found some very useful tips. Follow our guide step by step and get rid of the volume issue.
1. Adjust the Volume Precisely
As you know, Jabra Elite 65t are wireless earbuds. So, they can be connected to any Bluetooth device. The volume on the earbuds is adjusted according to the connected device.
However, you can also control volume directly on your earbuds. The volume control is located on the left earbud. Play an audio file.
Now, touch and hold the left earbud, it will show you two dots. Keep holding the upper dot to increase the volume. Put both earbuds in your ears and listen to the sound.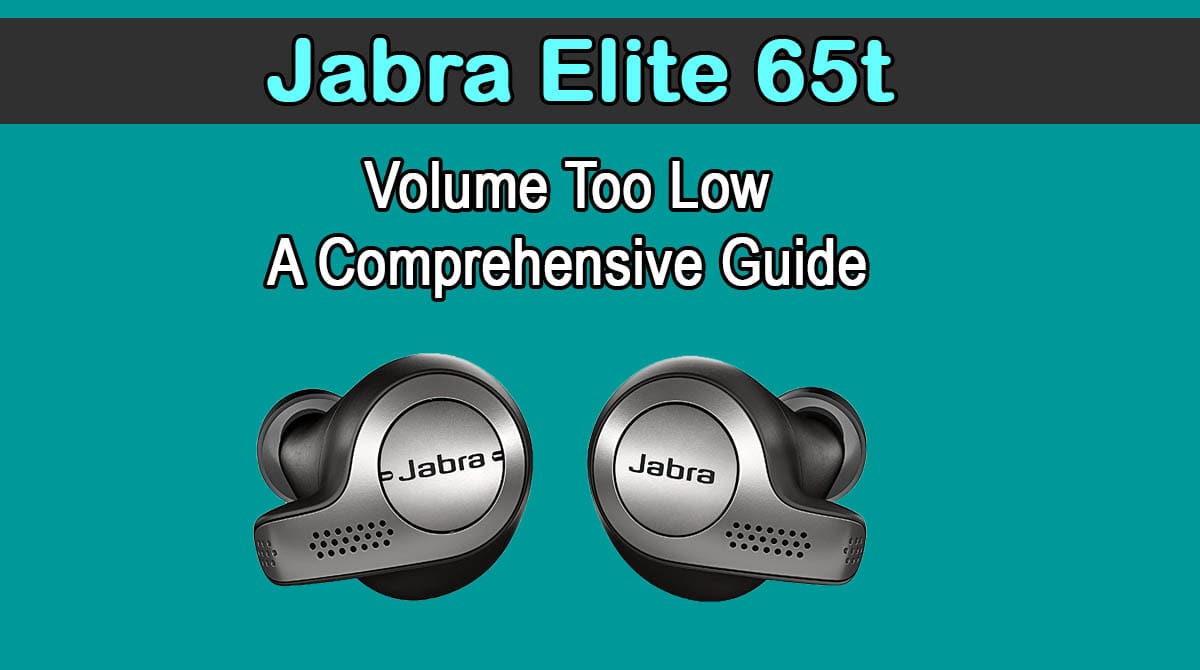 2. Disable the Audio Limiter
The problem may be in your device settings. An Android phone has a volume limiter feature. It stops you from raising the volume by more than 75%.
This feature protects you from hearing damage at high volumes. Find the volume limiter in your Android settings and disable it. Now, turn the volume to 100% and check it on your earbuds.
Moreover, check the volume setting of the app through which you are playing music. Because some of the music apps have their own audio settings.
3. Check Signal Strength
Since your Jabra Elite 65t is a Bluetooth device, the weak signal can cause a low volume issue. Bluetooth works within a certain range such as 30 feet.
Ideally, your earbuds should be placed within 2 meters of your phone or computer. Increasing the distance will cause signal loss.
Moreover, the presence of other Bluetooth devices in the areas may also lead to this problem. So, make sure that your earbuds are not placed closer to a Bluetooth device or Wifi router.
Further, make sure your earbuds are connected only to a single Bluetooth device. Pairing them with two devices at a time can also cause a low-volume issue.
4. Clean Your Device
Another most common reason for low volume is that something is blocking the sound. For example, tiny dust particles are trapped inside the speaker grills.
So, you need to clean your earbuds properly. Use a small and dry toothbrush and move it over the grill to remove the dust. Another trick is to suck your earbuds.
Most of the users fixed a low volume issue with this method. Sucking will remove the ear wax accumulated inside the speakers.
It is suggested to clean your earbuds regularly. Another suggestion is to avoid inserting them in moist ears and holding them with wet hands.
Protect your earbuds from direct sunlight, extreme heat/cold, and moisture. You can increase your device's life by following these tips.
5. Charge Your Jabra Elite 65t
Lack of power also causes a low volume issue. Your earbuds do not enough charge to play at high volumes. So, put them in the charging case for 15-30 minutes.
Make sure that the charging case has enough power. You can check it through the Jabra Sound+ app or observe the LED indicators.
Also, confirm that the device is receiving enough voltage supply and the wall power outlet is functioning.
After 30 minutes, remove both earbuds from the case, maximize the volume and check whether the problem is solved or not.
Make sure your charging case, adapter, and cable are not faulty. You should always use original charging tools that came with your device.
If you are using a third-party or cheap charging cable or adapter, it will affect the battery of your device. Hence, the weakened battery or speakers will pose a low-volume issue.
6. Update Your Jabra Elite 65t
Keeping your device up to date is very necessary for proper functioning. Because a firmware update comes with new features and bug fixes.
Hence, it can solve the low-volume issue. The update process is as follows;
Pair your Jabra Elite 65t to your mobile device. Make sure your mobile has an active internet connection.
Launch the Jabra Sound+ app on your phone. Click the 'Settings' icon on the top right corner of the screen.
Tap the 'Headset Firmware' option. If an update is available, install it by following the on-screen prompts.
Restart your earbuds after the process is complete and check the volume again.
7. Reset Your Jabra Elite 65t
If nothing works, try a reset on your Jabra Elite 65t. The reset will delete all the settings and Bluetooth pairing. In addition, it will help remove the bugs. Follow these steps accurately;
Go to the Bluetooth menu on the device paired with your Jabra Elite 65t. Un-pair, remove or forget the earbuds from the device.
Make sure that your earbuds are charged sufficiently.
Take out the right earbud from the case, it should be turned ON.
Now, press and hold the multi-function button for 10 seconds. Release it when the LED on the right earbud flashes red and then purple.
If the reset process is successful, the LED indicator should turn green indicating that the device is in pairing mode.
If the reset is not successful, repeat the process again.
Related: Fixing Jabra Elite 65t Right Earbud Not Working
Final Words
The 7 solutions given in this guide are all verified and effective. If you apply them correctly, your earbuds will be fixed.
Nevertheless, if still the issue persists, contact Jabra. Your device may have a manufacturing fault. Ask the manufacturer for a replacement if your Jabra Elite 65t is under warranty.
But, once again we remind you that apply all the solutions patiently. There are 99% chances that our guide will fix your Jabra Elite 65t too low volume issue.